Regular price
$192.00 USD
Regular price
$0.00 USD
Sale price
$192.00 USD
Unit price
per

The Vilas model
is a tennis-inspired leather sneaker and impresses with its sporty silhouette. The sustainably produced leather ensures a high-quality wearing comfort and goes well with both a sporty and
casual
outfit.
Free shipping and returns

Free shipping within the EU with DHL.

Free size exchange: If something doesn't fit, you can simply exchange the sneaker for the right size. We will send you the right pair of sneakers free of charge after receiving your return.

Free returns from Germany. Return costs from other countries must be borne by the customer himself.
Our promise of quality

Limited quantity Our colorways are currently limited to 300 pairs each.

Best quality through manual work and specially selected materials in Europe.


No risk of an unsuitable size thanks to free size exchange.


Best ergonomics through intensive product tests.


best service If something is wrong, you will immediately receive a new pair of sneakers.
materials and production

Handmade in Portugal

• Vegetable tanned calfskin

• Sole made from 20% recycled PET

• Recycled cotton

• Lining made from recycled cotton blend

• Frame sewn and finished

• Removable insole

• Weight per shoe 380 g

• FSC certified packaging

• Recycled dust bag
sizes and dimensions

Our sizes correspond to the usual EU sizes. If you are not sure, simply measure the distance between the end of your heel and the tip of your big toe and compare the measurement with the measurements in the table. PRO TIP: If in doubt, choose a larger size.

| | | | |
| --- | --- | --- | --- |
| EU size | US size | UK size | heel to toe in cm |
| 40 | 7.5 | 6.5 | 23.8 - 24.5 cm |
| 41 | 8th | 7 | 24.5 - 25.2 cm |
| 42 | 9 | 8th | 25.2 - 25.9 cm |
| 43 | 10 | 9 | 25.9 - 26.5 cm |
| 44 | 10.5 | 9.5 | 26.5 - 27.2 cm |
| 45 | 11 | 10 | 27.2 - 27.9 cm |
| 46 | 12 | 11 | 27.9 - 28.5 cm |
| 47 | 13 | 12 | 28.5 - 29.2 cm |
care instructions

In order to preserve your sneakers for as long as possible, we recommend impregnating them before wearing them for the first time. To clean the leather, you should use a soft brush and a cleaner that does not contain chemicals. The sole is easy to clean with a damp cloth. You can find a product recommendation for cleaning here.
sustainability

Our sneakers are made of purely environmentally friendly materials. Vegetable-tanned leather is processed without chemical additives, but only with purely biological tanning agents, which on the one hand increases durability and on the other hand does not cause any environmental pollution. Recycled materials such as PET from plastic bottles are used to manufacture the soles. The textile components of the shoes are made from recycled cotton fibre. The dust bag contained in the shoe box is made of 100% recycled PET, the shoe box itself, the envelope and the return form it contains are also made of 100% recycled paper.
shares
View full details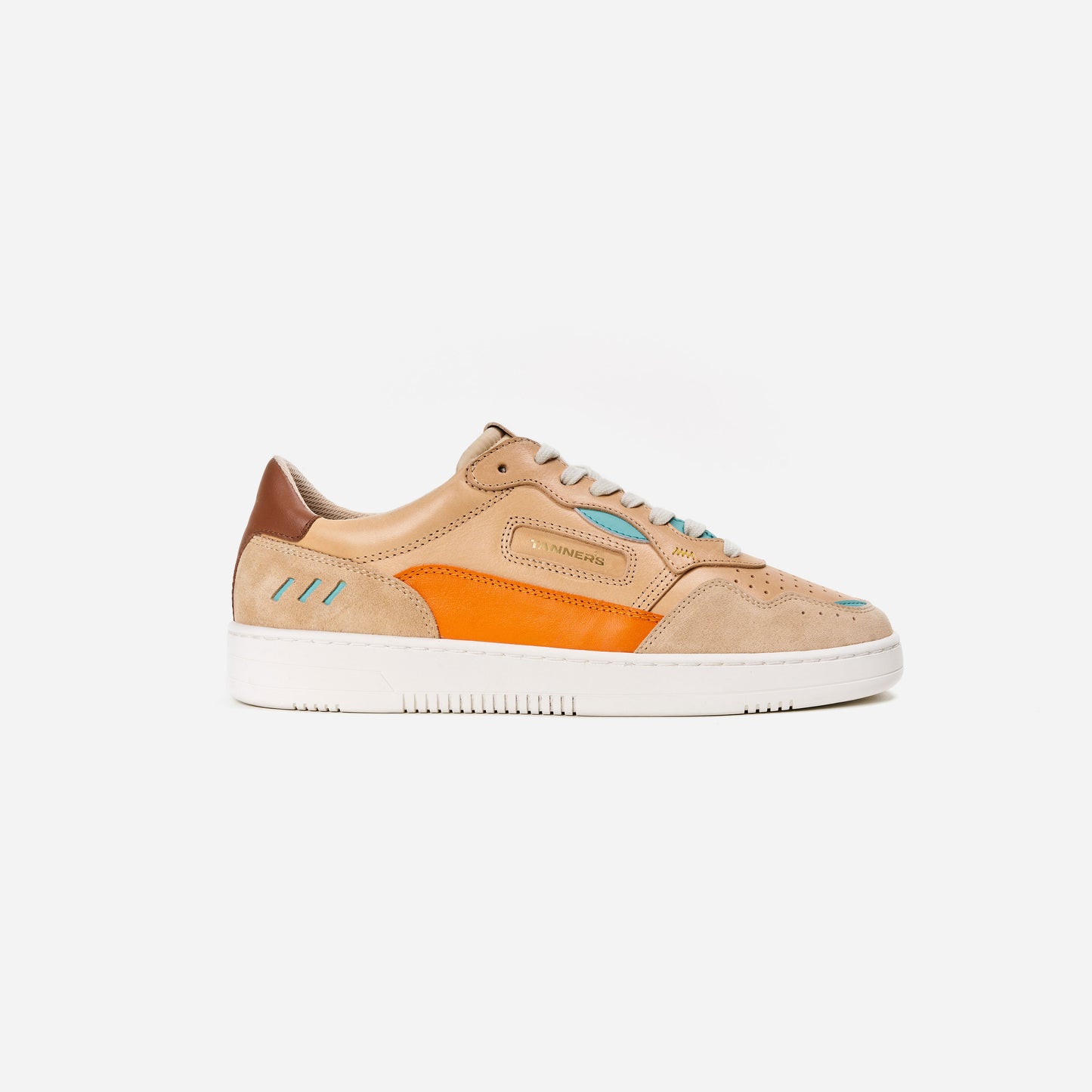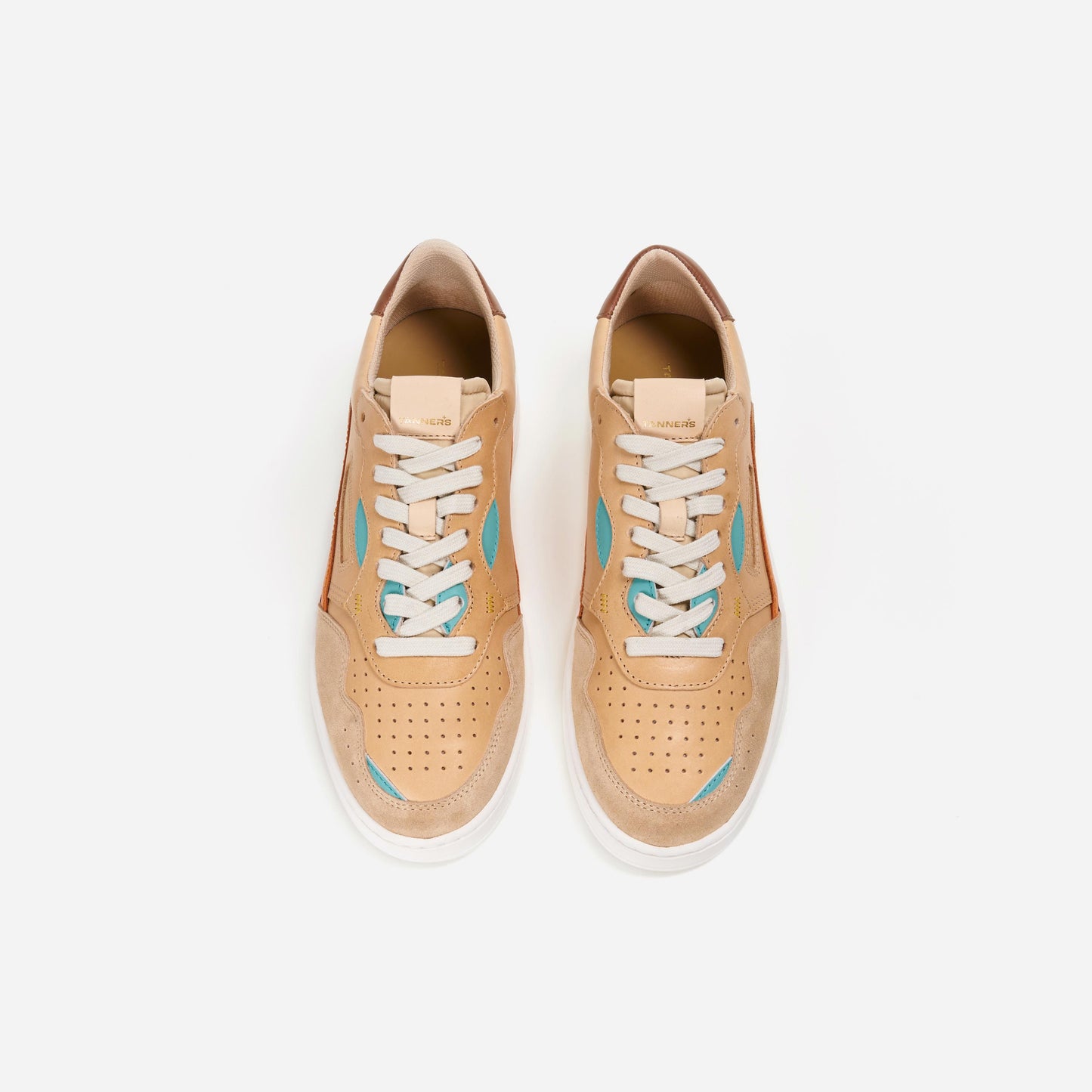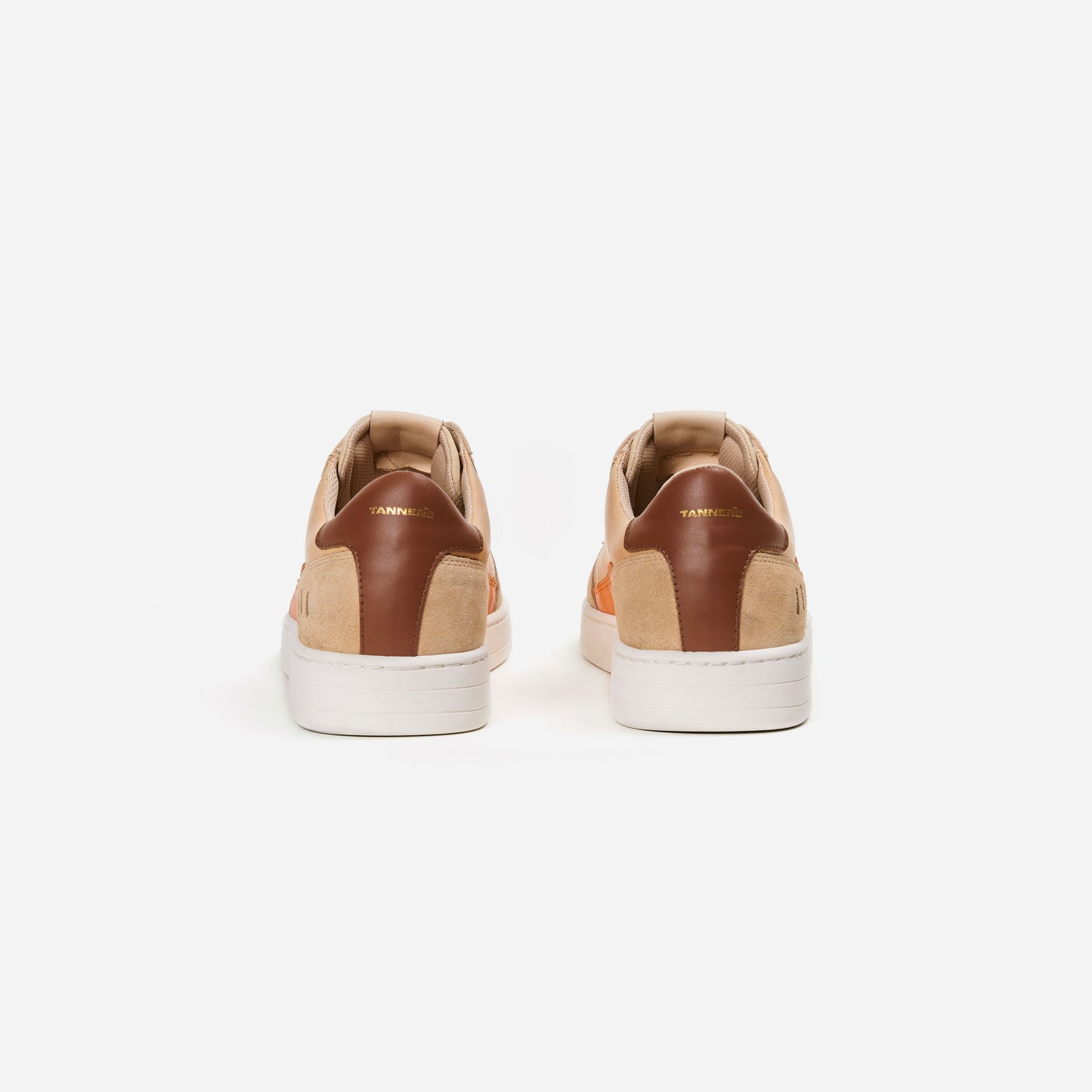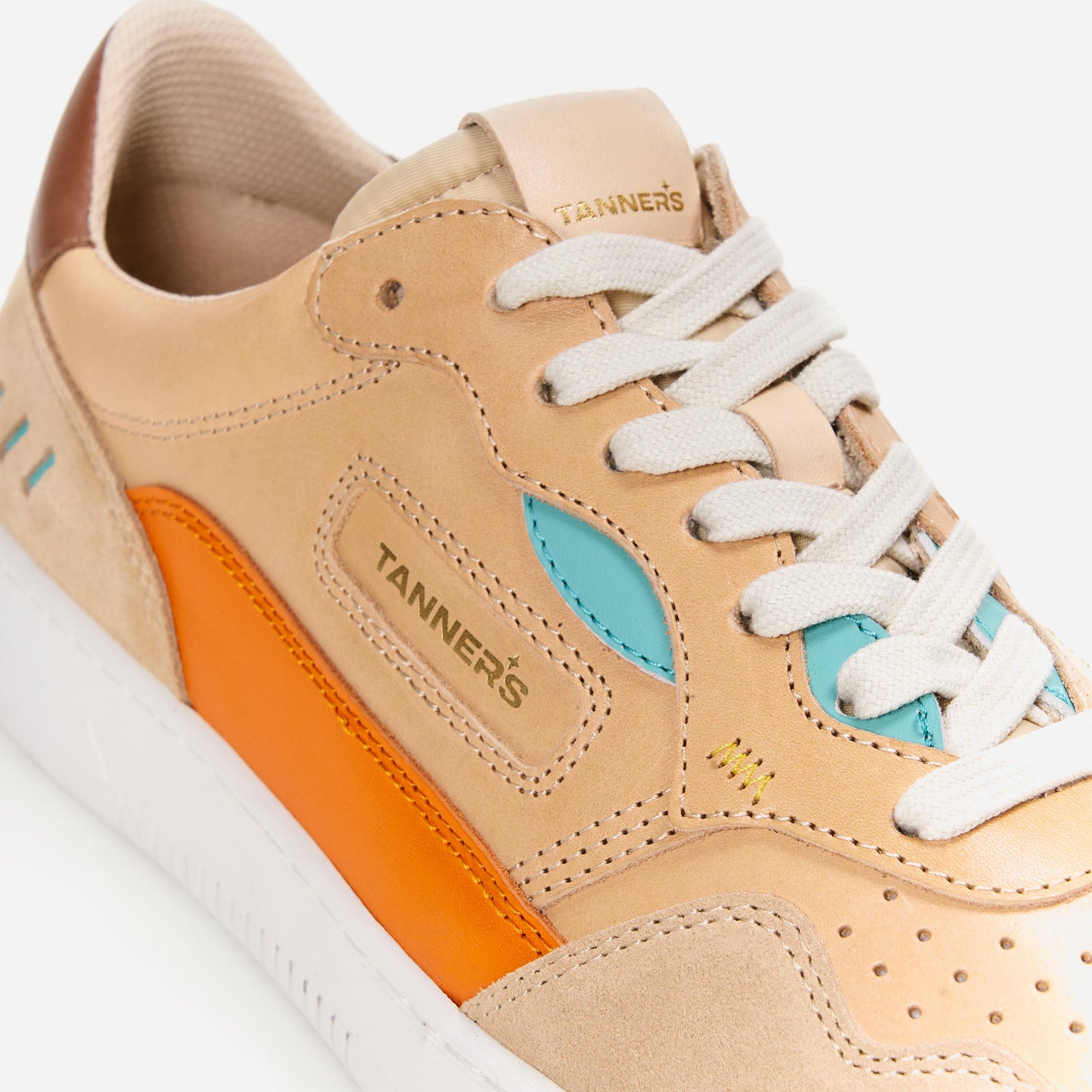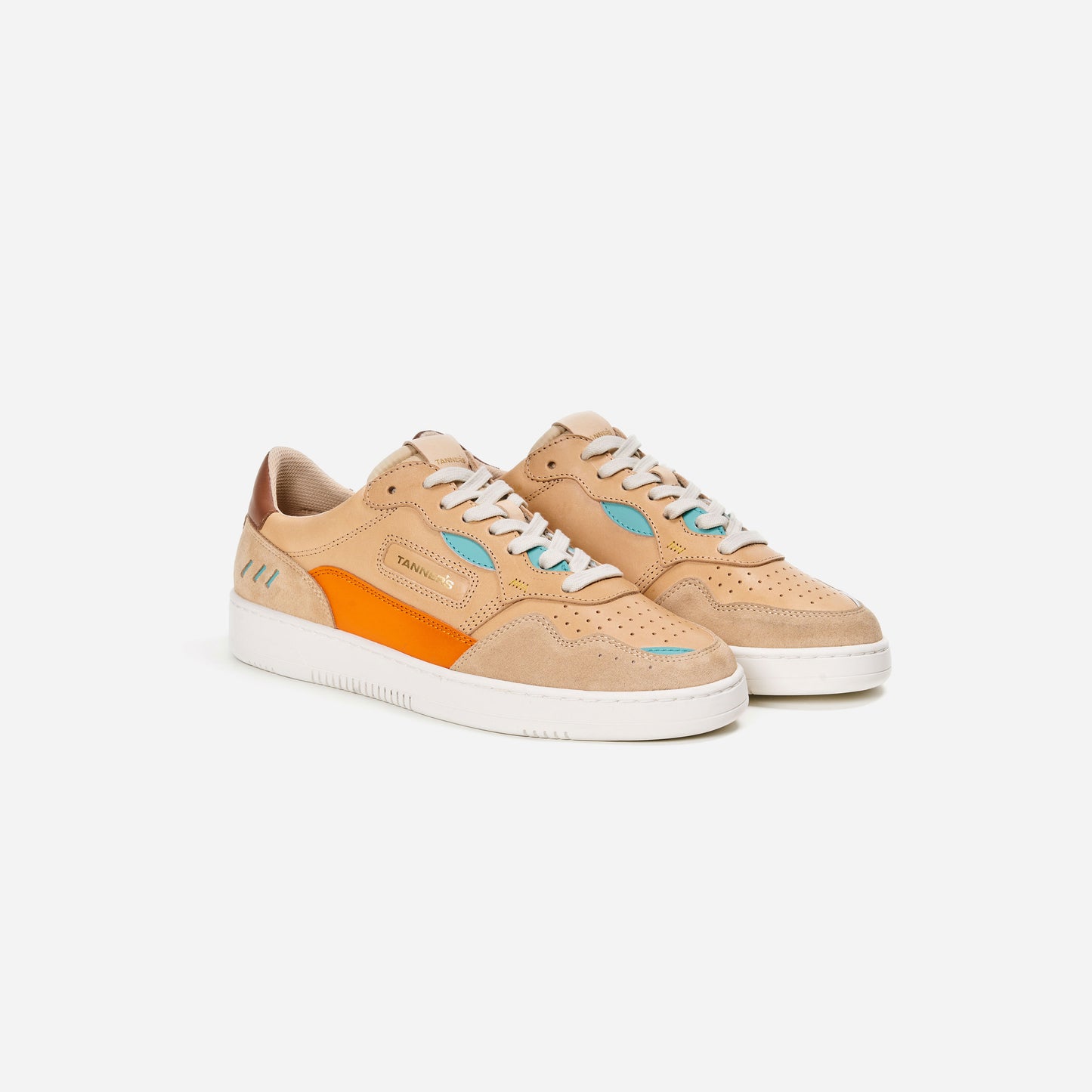 Perfection down to the last detail
It is extremely important to us that your experience with Tanner's is perfect. That's why we attach great importance to quality, not only with our sneakers, but also with our sustainable packaging.
More about men's sneakers
That's why you should buy men's sneakers from Tanner's.

The right sneaker can be a game changer. Browse our collection of white sneakers, black sneakers or brown sneakers for men and find the perfect pair for your look. Goodyear welted leather sneakers for men from Tanner's guarantee unique and unmistakable quality. The best men's casual sneakers, made by the best shoemakers in Portugal. Combine your favorite outfit with white men's sneakers. Tanner's men's sneakers are a good choice for men who want to look stylish and value the highest quality.

How to properly style white sneakers.

When you buy men's sneakers from Tanner's, you should also know that your entire outfit should be coordinated with the style of the shoes. Let's start with the color first. With our mid-court sneaker in white you can wear beige trousers, gray trousers or even blue jeans. This shows the strength of white sneakers. White sneakers are very easy to match with any outfit and any look combined with white sneakers immediately looks sporty.

How to properly style black sneakers.

Our black leather sneakers are almost as easy as our white sneakers. In principle, it makes sense here to combine the black sneaker with black or gray trousers. The accents in our mid-court low-top sneaker are kept in gray canvas and white vegetable-tanned leather, so you always achieve a classically elegant look with this combination.

How to properly style brown sneakers.

Compared to our white sneakers or black leather sneakers, our brown leather sneakers are just right for individualists who like their feet to be a little more conspicuous. Due to the orange and turquoise highlights on your brown leather sneaker, the shoe goes perfectly with blue jeans, beige chinos or black trousers with pleats. You can only buy brown sneakers from Tanner's online or from selected resellers.

Buy handmade sneakers from Tanners

Tanners handmade sneakers are shoes of the highest quality, carefully crafted by hand by skilled shoemakers. They are characterized by their use of high-quality materials such as leather and canvas and their careful workmanship.

Tanners is a renowned manufacturer of handmade shoes that focuses on the use of natural materials and traditional manufacturing techniques. The result is durable and comfortable shoes that offer both comfort and style.

Handmade sneakers from Tanners are the perfect choice for anyone who values ​​quality and sustainability and wants to own something unique. With a variety of colors and designs to choose from, there is a pair of handcrafted Tanners sneakers to suit every taste.

If you're looking for a pair of handcrafted Tanners sneakers, make sure they're made by skilled shoemakers and are made from quality materials like leather or canvas. That way, you can be sure you're getting a pair that will last and be comfortable to wear.

Tanners handmade sneakers are also a great choice for those who care about sustainability. Because they are made by hand, fewer resources are used and there is less waste compared to industrially produced shoes.

Overall, Tanners handmade sneakers are a great choice for those who value quality, comfort and style. They offer a unique and individual alternative to mass-produced shoes and are a more sustainable choice.